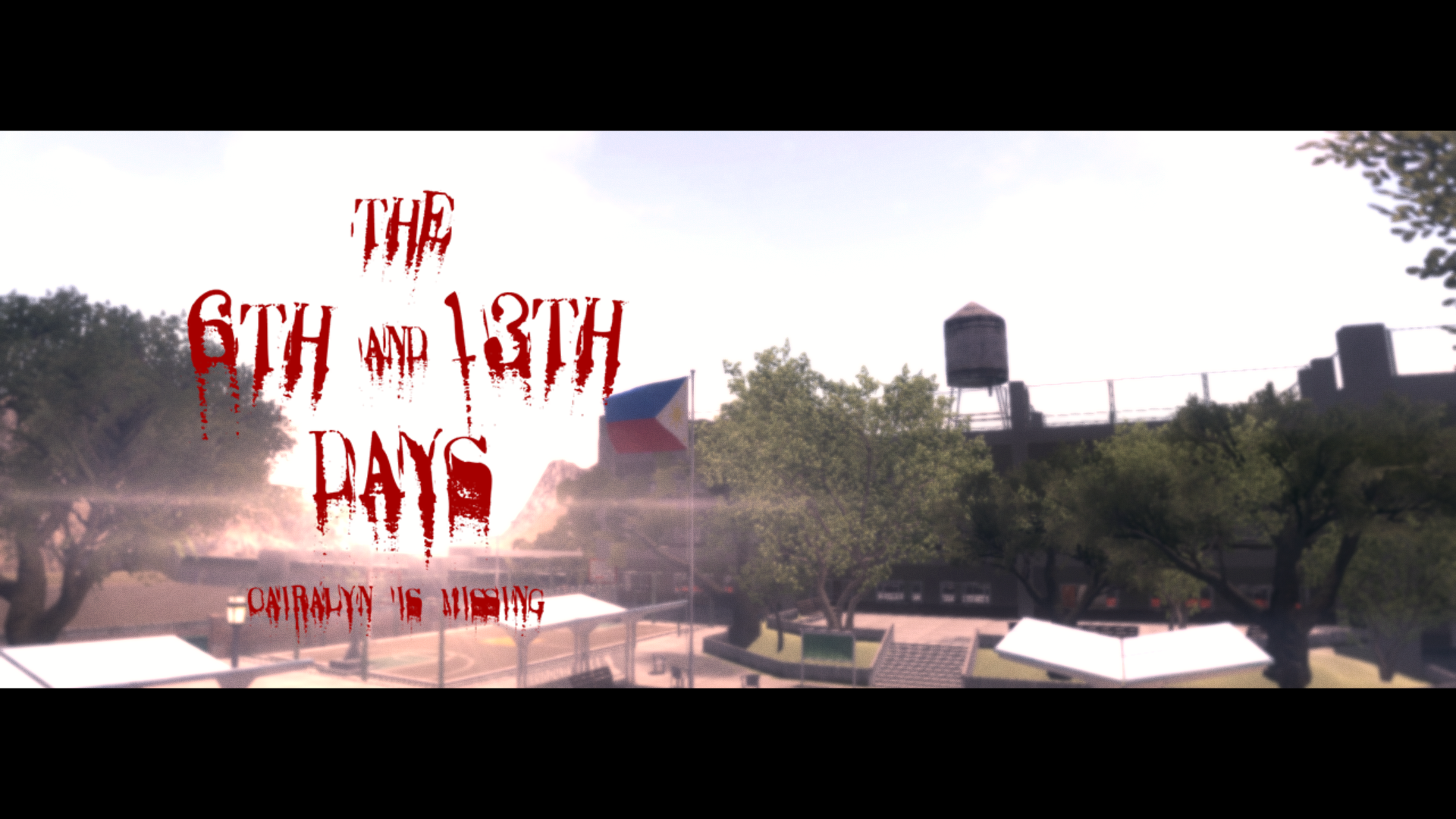 The 6th and 13th Days - Cairalyn is missing ( DAY 5th + DAY 6th Gameplay ) - Horror Survival Game
A downloadable game for Windows
< I Cant Upload latest upated of the game because the limit of upload file only 1GB >
Updated :
- you can Play Day 5th and Day 6th..
- Fix Collide of Weapon Damage
- Add some Understanding Information
Please Comment your suggestion and Improvement of the Game or Some Bugs if you found.. im currently Finishing Day 6th Story.. to finish all DAY Stage from 5th, 6th, 7th, 8th, 9th, 10th, 11th, 12th and 13th Day.
Note : This Game is Under Development.. ( so there will be Change in every Update)

Note : Puzzle to unlock Doors ( Don't add SPACE ) make sure you don't have space on entering password
PC Spec Required : 970 GTX Video Card, i3, 8GB RAM. UP
CONTROLS:
Player
W - forward
S - Backward
A - Leftmove
D - Rightmove
R - Open/Close
Q - Chat/Read File
E - Pick item
G - Hand On/Off
F - Weapon Lights On/Off
C - Mobile Camera On switch - Selfie On/Off
V - Mobile Camera Zoom IN/OUT
H - Mobile Camera Capture
SpaceBar - Jump / Cutscene Skip
Mouse1 - Hold mouse1 to Grab Object ( When Hand is On )
Mouse2 - Weapon Attack
Hold Leftshift - Run
Num1 - Weapon Unequip
Num2 - Weapon1
Num3 - Weapon2
Num4 - Weapon3
Num5 - Weapon4
ESC - Pause Game
Partner CAIRALYN
F1 - Follow
F2 - Hide
F3 - Stay
F4 - Move to Target Place
F5 - Partner Flashlight ON/OFF

Download
Click download now to get access to the following files:
The 6th and 13th Days - Cairalyn is Missing (DAY 5th + DAY 6th Gameplay).rar
1,004 MB
Comments
Log in with itch.io to leave a comment.
Nice gameplay.. you can PRESS "C" button while using Mobile Phone.. so u can use CAMERA on Phone and Take picture of BLoody Bear at Refrigerator.. while phone camera is Ready. u can press "H" for Camera Capture Picture.
thank u! ...this game have good idea
thanks for your nice feedback :D
:D you make battle royale horror… never look horror battle royale...think good idea
Extremely ambitious, definitely has a lot of potential, with some polish. Though I understand this is a beta version, so hopefully that polish will come as the project develops.
A few things off the top of my head; I'd recommend looking at locking the mouse during gameplay as it is quite intrusive, especially in a horror experience, when the cursor is visible. Also the translation was occasionally off which would definitely be something that could be rectified, as I know a lot of native English speaking horror game let's players who have said they would happily look over a script for free. I would certainly recommend looking into this.
Overall what you have produced thus far is very impressive for an indie horror game and I certainly admire the the fact you have chosen to do a lot of different things instead of just producing a Slender or Five Nights at Freddy's clone. Really nice job.